Tournament has thrown spotlight on the player's mothers whose hard-luck life stories resonate with ordinary Brazilians
por Dom Phillips
Publicado originalmente no Guardian
Round the corner from a gang member with a pistol in his waistband and an automatic rifle in his hands, the Women's Bar in Rio's Complexo do Alemão favela was showing the World Cup on a big TV.
Among the crowd watching the Brazil-Serbia game, women in team shirts outnumbered men, while children bounced on a trampoline or queued to have Brazilian flags painted on their cheeks.
"You meet everyone here. There's a great vibe," said Maira Quirino, 26 – who like many of those at the bar – is a single mother.
The Seleção has so far had a successful if unspectacular World Cup.
But away from the pitch, this tournament has thrown the spotlight on the player's mothers whose hard-luck life stories appear to resonate with ordinary Brazilians in a way that the team's more glamorous wives and girlfriends do not.
According to a widely shared story in the Brazilian edition of El País, six of the players who lined up against Serbia – Miranda, Thiago Silva, Marcelo, Casemiro, Paulinho and Gabriel Jesus – grew up without fathers.
According to government figures, women are the head of the household in 40% of Brazilian families, even where they have a conjugal partner – up from 23% two decades earlier. But single mothers are often overlooked in popular culture.
Many of Brazil's great players have come from backgrounds of crushing poverty.
And their mothers connect with ordinary Brazilian women because they have lived similar lives, said Debora Diniz, a professor of anthropology at the University of Brasília. That contrasts with the upscale lifestyle enjoyed by of players' wives and girlfriends – who in many cases are lighter-skinned, unlike the team which is a typically Brazilian racial mix.
"[The mothers] are much more universally Brazilian women," she said. "There is a racial contrast that is very important. There is a class contrast that is very important."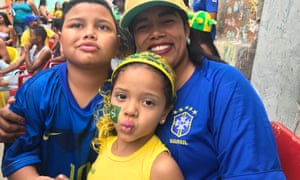 In Brazil – and other South American countries – feminism is on the rise and the issues it raises are increasingly discussed on television soap operas, said Leticia Bahia, a consultant to the United Nations Foundation and co-founder of feminist site AzMina. "The idea that you have to stay in a marriage because of the children has really collapsed," she said.
At the Women's Bar, Quirino's friend Daiane Oliveira, 23 – who has the name of her daughter Camilly, seven, tattooed on her calf – said Brazilian mothers are increasingly choosing to go it alone if relationships aren't working out. "Brazilian women today are independent. They don't need men for anything."
A grimmer factor in Brazil's growing number of single mothers is the country's ban on abortion, which forces many women into unwanted pregnancies, said Thaiz Leão, 28, who runs a Facebook page called Mãe Solo (Single Mother) with 80,000 followers.
"The father can abandon the child and the woman cannot," Leão said. Brazil's entrenched machismo is also a factor, she said: many men regard infidelity as their birthright and refuse to help at home. "We deserve better relationships," Leão said.
For many women, the spotlight on the team's mothers has been been a timely reminder of where the players came from. "None of them are middle class," said Mariluce Souza, 36, who runs the Favela Art project in the Complexo do Alemão.
Vera Lúcia, mother of Manchester City and Brazil forward Gabriel Jesus, is a former maid who raised him and his three brothers alone.
Now, however, she often appears on chat shows and toured Russia – alongside Neymar's mother Nadine and Fernandinho's mother Ane – for a six-part TV Globo series called As Matrioskas – The Russian Dolls.
Her strong, supportive relationship with her 21-year-old son, a star at Manchester City, resonated with mothers in the crowd at the Women's Bar.
"Gabriel Jesus is from a favela and was raised by his mother," says Rita de Cassia, 38, a single mother of three children – the middle of whom, Andry, 12, also dreams of becoming a footballer.
Brazil's World Cup focus on footballing sons and mothers from tough neighbourhoods was encapsulated in a photograph which went viral earlier this month
Wallace Rocha, 12, from Rio's Vila Cruzeiro favela wanted a shirt with midfielder Philippe Coutinho's name, but neither his mother, Sandra de Oliveira, 47, an unemployed cleaner, nor his stepfather could afford one.
De Oliveira asked a local seamstress to knock one up, promising to pay later.
Photographer Bruno Itan captured the pair watching Brazil beat Costa Rica – then launched an online campaign to get it to Coutinho.
Wallace too wants to become a footballer, his mother said. "It's my dream too," she said. "It's a good profession for him, to get him off the streets."
Since you're here…
… we have a small favour to ask. More people are reading the Guardian than ever but advertising revenues across the media are falling fast. And unlike many news organisations, we haven't put up a paywall – we want to keep our journalism as open as we can. So you can see why we need to ask for your help. The Guardian's independent, investigative journalism takes a lot of time, money and hard work to produce. But we do it because we believe our perspective matters – because it might well be your perspective, too.
The Guardian has brought a number of vital stories to public attention; from Cambridge Analytica, to the Windrush scandal to the Paradise Papers. Our investigative reporting uncovers unethical behaviour and social injustice, that helps to hold governments, companies and individuals to account. This work is costly – often we can't anticipate how a story will unfold, how long it might take to uncover, and whether we will face legal threats that attempt to stop us. But we remain committed to challenging and exposing wrongdoing where we think it is critical – through this we can, together, create meaningful change in the world.